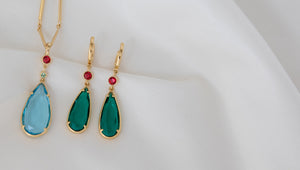 Water Lily Pearl Ring
RESERVE NOW
💚 You've sold us out again! 💚
A limited quantity will be ready in time for the holidays, reserve yours now!

An homage to Princess Tiana, an elegant sterling silver Water Lily blossom embraces a creamy genuine freshwater pearl.
shop all tiana
Official collab
Pokémon Jewelry
Handcrafted in solid sterling silver, the unisex Pokémon X RockLove collection is the perfect jewelry accessory for any Trainer!
Let's go
League of legends
HEARTSTEEL
Celebrating their debut single PARANOIA, the unisex and effortlessly edgy League of Legends X RockLove HEARTSTEEL Collection is available now!
shop now
wish upon a star
🌟 Disney's WISH 🌟
May your dreams come true with the Disney's WISH! Shop the new collection featuring jewelry inspired by Asha, Valentino, and Star.
shine on
the magic within
Howl's Moving Castle
Always return to the one you love with the official Studio Ghibli X RockLove Howl's Moving Castle jewelry collection. 🏯🔥
lead with your heart
let's party!
RockLove XV Collection
RockLove Jewelry is celebrating our 15th anniversary by refreshing some of our most iconic early jewelry designs!
limited edition
CEO / Creative Director
Allison Cimino
Started in 2007 by CEO and Designer Allison Cimino, RockLove explores the evolving relationship between fashion and fandom.
About Rocklove